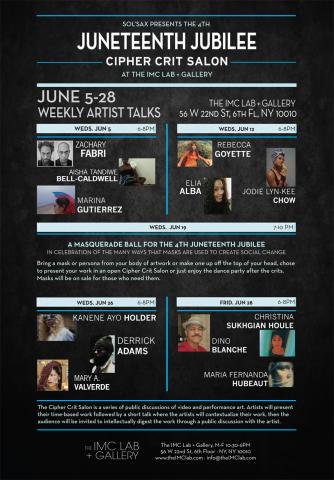 "THE JUNETEENTH JUBILEE CIPHER CRIT SALON"
JUNE 5-28, 2013
The IMC Lab + Gallery and SOL'SAX present The Juneteenth Jubilee Cipher Crit Salon. The Cipher Crit Salon is a series of public discussions of video and performance art. Artists will present their time-based work followed by a short talk where the artists will contextualize their work, then the audience will be invited to intellectually digest the work through a public discussion with the artist.
Cipher Crit Salon Schedule
June 5, 6-8pm
Aisha Tandiwe Bell-Caldwell
Marina Gutierrez
Zachary Fabri
June 12, 6-8 pm
Rebecca Goyette
Jodie Lyn-Kee-Chow
Elia Alba
June 19, 7-10pm - MASQUERADE
Juneteenth Jubilee Artists and the public are invited to a masquerade celebrating the many ways that masks are used to create social change. Bring a mask or persona from your body of artwork or make one up on top of your head, chose to present your work in an open Cipher Crit Salon or just enjoy the dance party after the crits. Masks will be on sale for those who need them.
June 26, 6-8pm
Derrick Adams
Kanene Holder
Mary A. Valverde
June 28, 6-8pm
Christina Sukhgian Houle
Dino Blanche
Maria Fernanda Hubeaut
The Cipher Crit Salon was created because artists make work that is an attempt to invoke a conversation with the audience, but there is a paucity of venues outside of the academy for that conversation to take place. The agency within an artist's work is multiplied when the issues of the work are engaged, questioned, and validated though public discussion. The Cipher Crit Salon is intended to strengthen the dialog surrounding art and the creative process by disseminating the concerns of the artist through public discourse.