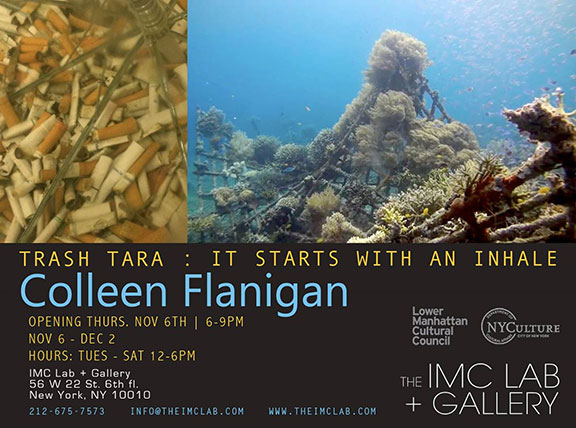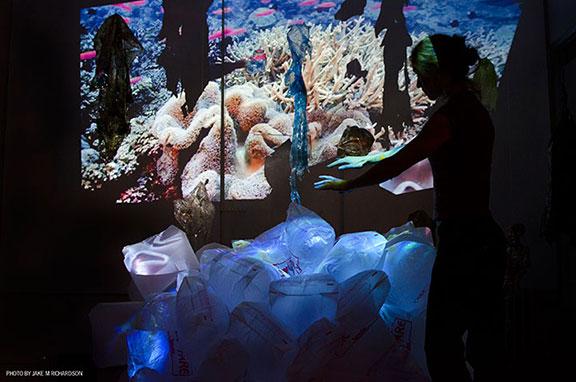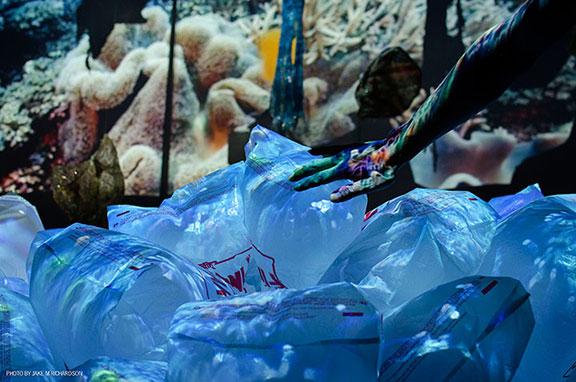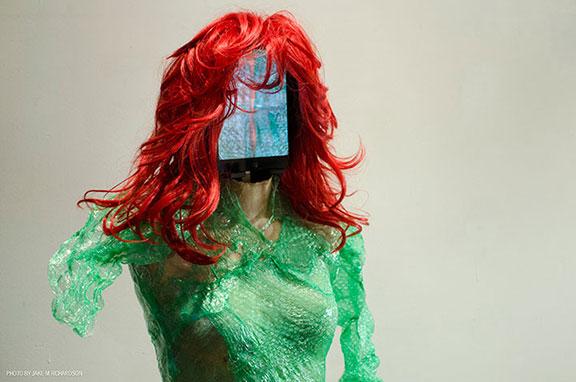 FOR IMMEDIATE RELEASE
Trash Tara: It Starts With An Inhale
November 6 - December 2, 2014
The IMC Lab + Gallery
56 W. 22nd St. 6th Fl. New York, NY 10010
The IMC Lab + Gallery is pleased to present "Trash Tara: It Starts With In An Inhale", a solo exhibition by Colleen Flanigan. This exhibition is the result of Flanigan's participation in IMC's Co-Create residency program, which pairs artists with technologists to enable the creation of new participatory and socially conscious art forms.
Colleen Flanigan works at the intersection of art, science, technology, and the environment. She is the first visual artist to be certified by the Global Coral Reef Alliance in Biorock® mineral accretion, a method for coral reef restoration that shares many metallurgical, electrical and chemical principles with her early jewelry and sculpture, which encompassed electroforming, casting, welding, surface patinas, and mixed media fabrication. She and an international, interdisciplinary team have created a DNA-inspired sculpture to become an artistic coral refuge, scientific study, and unique attraction in the Museo Subaquatico de Arte (MUSA) in the National Marine Park of Cancun, Mexico. Scientists, filmmakers, environmentalists, government, tourism, divers, and others are involved with bringing this new angle to the underwater art/science institution started in 2009.
One of the inaugural class of TED Fellows (2009) and TED Senior Fellows (2010-2012), Colleen has been raising awareness about "art as ecology" coral work through presentations and creating multimedia installations, sometimes participatory, at TED, TEDx's, Maker Faires, Science Pubs, American Museum of Natural History, Environmental Film Festivals, NOAA, School of Visual Arts (SVA), ocean conferences, and youth events.
Exhibiting internationally, including Indonesia, Europe, the US, Canada, the UK, and Mexico, Colleen has been making art all of her life. She has a BA in Design from UCLA and a post-baccalaureate degree in Metals from the Oregon College of Art and Craft. Human relationships with resources and other species are at the core of her artistic investigation, along with a strong connection to tactile materials and a desire to semi-curate spontaneous public interactions. In 2004, her work evolved to include alter egos who give physical/visual voice to specific socio-ecological concepts, from ocean health to climate change. Miss Snail Pail (MSP) for example, emerged as a healthy alternative to pesticides and a back yard chef with over 30 recipes using the spiral-shelled mollusks. The nature of being in a unique costume means she is on point for the topic she is visually discussing. Throughout her work, Flanigan has been addressing breath, and the ability to breathe, from underwater coral reefs to her more recent work addressing the issues of human breath. Her most recent alter ego, Trash Tara, roams the city, picking up discarded cigarette butts, and sparking conversations about recycling and clean air along the way. For this exhibition, Flanigan is drawing a parallel between her work underwater and her work on urban streets, bringing a playful sensibility to the complex matter of polluted air, water, and streets. She has created an immersive installation, mixing together an underwater world with the grittiness of urban pollution. With the help of IMC technologist James Tunick and fellow Co-Create resident Dan Baker, Flanigan's work uses repurposed materials and interactive technology to collapse an ocean and a metropolis into a magical space that fosters awareness and open conversation about social and environmental activism in oceans and on land.
TrashTara is made possible in part with public funds from the Manhattan Community Arts Fund, supported by the New York City Department of Cultural Affairs in partnership with the City Council and administered by Lower Manhattan Cultural Council.